The LVS Ascot - Independent, Day & Boarding, Infant, Junior & Senior Schools & Sixth Form, London Road Ascot.
OPEN DAY - SEPTEMBER 4th 2021
CLICK on this link for more information https://www.lvs.ascot.sch.uk/admissions/open-days-2/ 
 The LVS Ascot is hoping that they will be able to open their doors to you and welcome you to an Open day on Saturday 4th September. This is the perfect opportunity to meet the Principal and senior members of staff, gain a clearer understanding of our curriculum and co-curricular activities, our GCSE and A' level provision and to get a feel for the personality and culture of the school.
They will be adhering to government guidelines and the lockdown road map, but  are excited at the thought of soon meeting in person and being able to show you round the gorgeous campus.
FUTURE EVENTS AT LVS ASCOT
Whole School Open day - Saturday 4th September 2021
Whole School Open day -  18th September 2021
Reception Open Evening -  6th October 2021  
Infant and Junior School Open Morning - 12th October 2021
Whole School Open Day - 20th November 2021
Whole School Open Day - 29th January 2022
Whole School Open Day - 7th May 2022 
***********************
2021 A'Level Results | LVS Ascot Pupils Celebrate A Level Exam Success
Pupils at independent day and boarding school LVS Ascot, on London Road, celebrated their A Level success together in the school's purpose built sixth form centre after a year in and out of isolation and bubbles.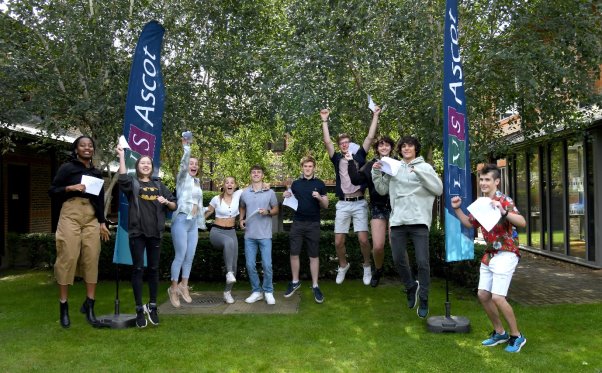 Despite one of the most challenging academic years this country has seen, the LVS Ascot year 13, class of 2021, made great progress and achieved a pass rate of 98%.
Matty was asked what was the greatest lesson he had learned from LVS Ascot and said "Believe in yourself, have confidence and you can do whatever you want to do."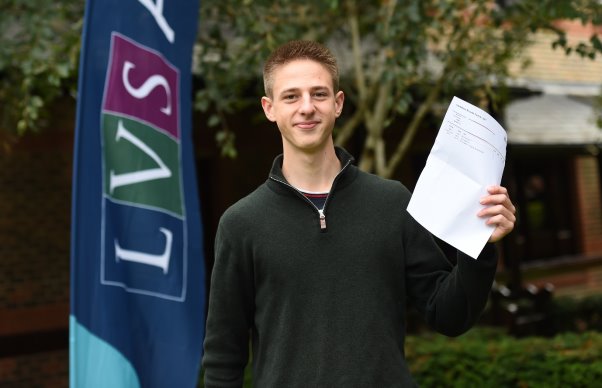 Charlie will be going on to a degree level apprenticeship, came into school with his mum and we asked her what was her highlight of LVS Ascot, she said "… your ICT teachers, for me they've been exceptional definitely.   You've had really good support and I think you're going to miss that."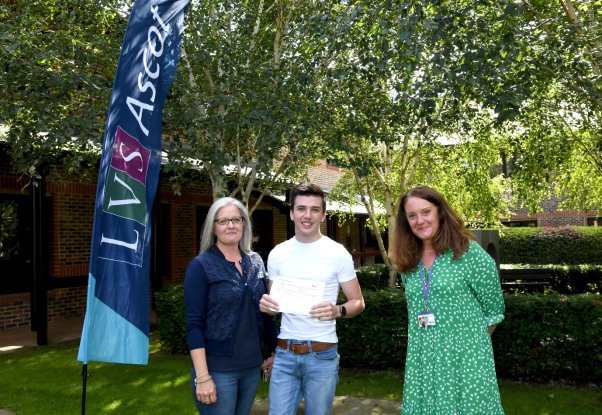 Principal, Christine Cunniffe, said "I am enormously proud of the hard work our sixth form pupils have put in, and that is reflected in their results.  We have seen some outstanding high grades for individuals and some who have exceeded their expectations.   I want to thank our dedicated body of teaching staff who have shown resilience and commitment that has ensured the continuity of education that has supported our pupils to achieve their best."
For more information about LVS Ascot, please visit https://www.lvs.ascot.sch.uk/
******************** 
LVS Ascot won the Independent Schools Association 2020 Award for Outstanding Sports (Large Schools Category)
2020 A'Level Results
Despite the national controversy, overall the A-Level results are excellent. The increase in top grades are particularly pleasing.
Grade A*-  8.05% 
Grade A-  14.94% 
Grade A*-A – 22.99% 
Grade A*-B –  49.43%  
Grade A*-C – 75.29%   
Overall pass rate A*-E – 97.7% (2019 - 98.2%, 2018- 98.3%, 2017- 99.5%, 2016 – 99.2%, 2015-96.2%, 2014-96.1%)  
 Principal of the school Christine Cunniffe says, ' These are unprecedented times and despite the current situation, overall we are happy with the results.  We do however appreciate there will be a number of students who will need additional support and guidance as they look at next steps for the future and so all of our efforts here at LVS Ascot will be in channelled into providing one to one support sessions both in person and online.'
GCSE RESULTS 2021
Pupils at independent day and boarding school LVS Ascot, on London Road, Ascot, gathered in the purpose built sixth form centre to celebrate their GCSE exam results.
This cohort of LVS Ascot pupils have shown resilience and commitment to their studies during a challenging year and have achieved a pass rate of 98.2% (pupils achieving at least 5 GCSEs graded 9-4).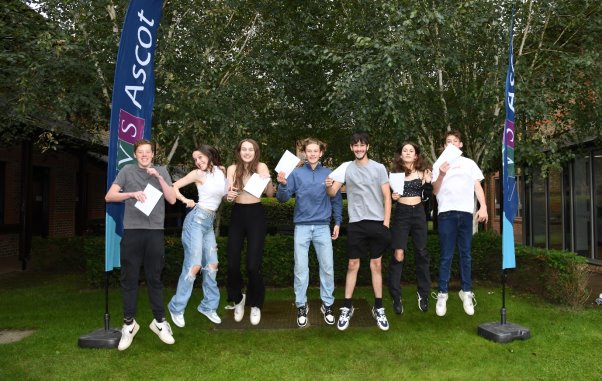 Student Gauri Santhosh, pictured with her father, said of her results "I feel happy and surprised actually".  When asked about her GCSE highlights she said "…. The friendships that I've made, LVS Ascot is an international school as well, I've made friends from all over the world and we got to experience GCSEs together."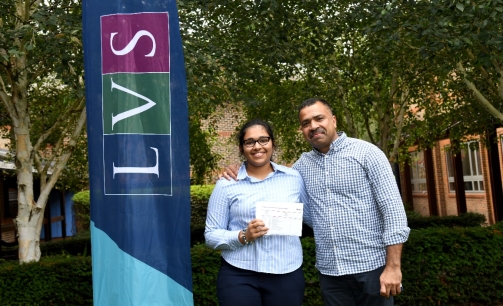 Charlotte Reid joined LVS Ascot in Reception Class at the age of 4, after receiving an outstanding set of results she is looking forward to joining the LVS Ascot Sixth form to study English, History and Art at A Level.   Her mum was asked what her highlight of her experience of LVS Ascot has been, so far, she said "The school in general.  Because it's a non-selective school, you've got all sorts of different people from different backgrounds really.   I know it's a private school, but there are different people and I think that makes it fun for the kids."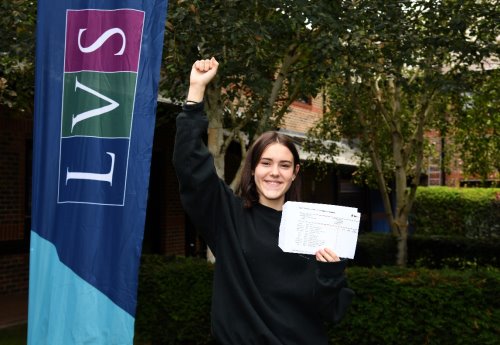 School Principal, Christine Cunniffe said "I'm so proud of our LVS Ascot community.   With diligence and hard work our pupils have been rewarded with an excellent set of results and can look forward to their next steps with confidence.   Likewise, our staff, who focussed on ensuring continuity of education for all our pupils, went above and beyond to deliver realistic, earned and robust grades in line with JCQ requirements."
 She went on to say "At LVS Ascot we accept all abilities and we support our pupils to exceed their expectations and achieve their personal best and celebrate not only the top grades but those who grades are higher than expected.   We're looking forward to welcoming most of them back into the LVS Ascot Sixth Form where we hope they will be able to study their A' Levels and vocational courses without further impact from COVID."
For more information about LVS Ascot, please visit https://www.lvs.ascot.sch.uk/
GCSE RESULTS 2020......
Breakdown by grades and comparison : 
 There was an increase in A* (9-8) grades - 26.6% up from 17.56% in 2019, which is a significant increase.  Overall 97.2% of grades were A*-C (9-4) compared to 85.7% in 2019. Again, this is a significant increase on last year. Despite the circumstances in which the grades were awarded we would have also expected an increase due to a particularly strong Year 11 cohort this year. (2018-81.5%, 2017-85.5%)