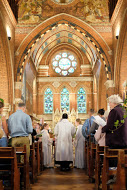 All Saints' is a traditional Church of England parish church in the diocese of Oxford. VISIT : www.all-saints-ascot.org
Easter 2021
************************************
Livestream of Sunday Mass at 10.30am on Sundays - WORSHIP AT HOME . The service will take place on the website www.zoom.us  or via the App if you have downloaded it.
Contact the Parish office on 01344 884686 or office@all-saints-ascot.org for the link to the Livestream.
********************************
In light of the climate crisis, the declaration of a climate emergency by both the RBWM and the BFC, as well as the Church of England's commitment that every parish will be carbon neutral by 2030, we at All Saints', Ascot, have purchased and installed Solar PV panels and storage batteries for both All Saints Hall and King Edward's Hall. 
These will be blessed by the Right Revd. Olivia Graham, the Bishop of Reading, at special services on the 24th October, 2021.  The service for King Edwards Hall, which is situated in Bracknell Forest Council, will take place at 9:00am. That for All Saints Hall, which lies in the Royal Borough, will take place at 10:30am. 
E mail: office@all-saints-ascot.org
CLICK HERE for Friends of All Saints
Everyone is welcome at the All Saints Church services. The  Church is in London Road, Ascot, near the Heatherwood roundabout.  If you are a baptised Christian and would normally receive communion in your own church then please feel welcome to take communion with us.  if not we would be delighted to see you at the altar rail for a blessing.  Just keep your hands by your side and we will know that you would like a blessing.
Please make yourself known to the welcoming sides person if you are new.  We can offer a seat next to a 'regular' if you would like support
Mass at 8:00am
This service in the main church at All Saints is a eucharist / holy communion service. It is a spoken service with no hymns and there is an address by the minister each week.  The service lasts about 45 minutes. 
It is popular with the older members of the congregation and people who are busy later in the day...
10:30 Parish Mass
This Service in All Saints' Church is our main service on Sunday.  it is attended by people of all ages from babies upwards. It is a eucharist  / holy communion service with hymns and a sermon.  It lasts just over an hour. Our Sunday School for children runs in parallel in the church hall.  On most Sundays there is a ministry of healing at this service: an opportunity for private individual prayer for those who are experiencing problems with health or other matters.
10:30 All Saints' Together
On the first Sunday in each month the 10:30 service is a lively, eucharist service with lots of music from our band and junior choir.  The address is often a presentation by one of the youth groups.  We are joined at this service by the Sunday School children. 
After the 10:30 services we join in a time of fellowship over coffee, tea or soft drinks in the adjacent Hall.  It is an ideal occasion to socialise and get to know one another better.  Please join us.
Phone: 01344 884686 or Email: office@all-saints-ascot.org
Our postal address is
Parish Office,
King Edward's Hall,
King Edward's Road, Ascot
SL5 8PD
 For further information please contact:  Fr Darrell Hannah on 01344 621200   or email: rector@all-saints-ascot.org
01344 884686 or e-mail friends@all-saintsascot.org
All Saints Church | Church of England Co E Church in catholic tradition, London Road, Ascot