WEBSITE  The LVS Ascot - Independent, Day & Boarding, Infant, Junior & Senior Schools & Sixth Form, London Road Ascot.
Pupils at independent day and boarding school LVS Ascot, on London Road, Ascot, gathered in the purpose built sixth form centre to celebrate their GCSE exam results.
This cohort of LVS Ascot pupils have shown resilience and commitment to their studies during a challenging year and have achieved a pass rate of 98.2% (pupils achieving at least 5 GCSEs graded 9-4).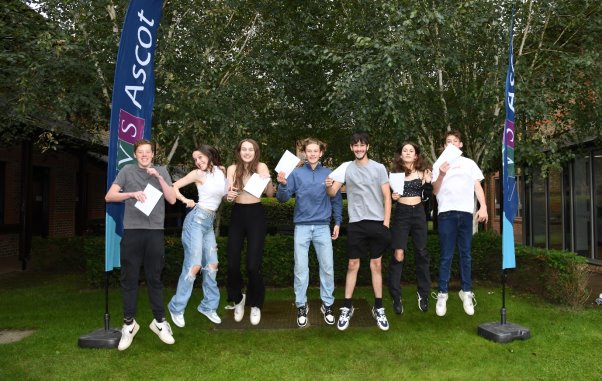 Student Gauri Santhosh, pictured with her father, said of her results "I feel happy and surprised actually".  When asked about her GCSE highlights she said "…. The friendships that I've made, LVS Ascot is an international school as well, I've made friends from all over the world and we got to experience GCSEs together."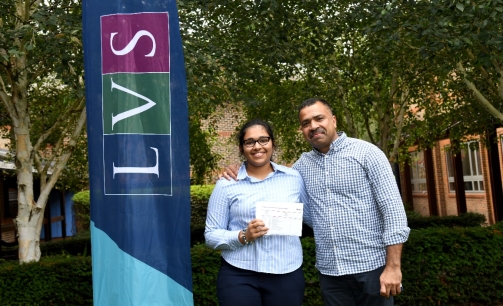 Charlotte Reid joined LVS Ascot in Reception Class at the age of 4, after receiving an outstanding set of results she is looking forward to joining the LVS Ascot Sixth form to study English, History and Art at A Level.   Her mum was asked what her highlight of her experience of LVS Ascot has been, so far, she said "The school in general.  Because it's a non-selective school, you've got all sorts of different people from different backgrounds really.   I know it's a private school, but there are different people and I think that makes it fun for the kids."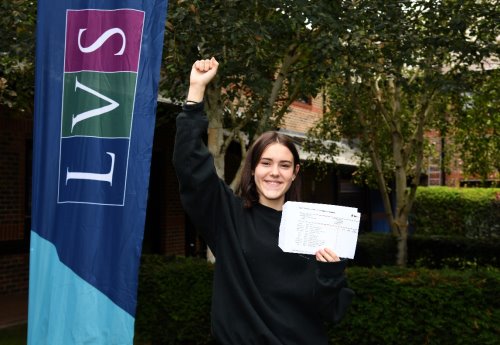 School Principal, Christine Cunniffe said "I'm so proud of our LVS Ascot community.   With diligence and hard work our pupils have been rewarded with an excellent set of results and can look forward to their next steps with confidence.   Likewise, our staff, who focussed on ensuring continuity of education for all our pupils, went above and beyond to deliver realistic, earned and robust grades in line with JCQ requirements."
 She went on to say "At LVS Ascot we accept all abilities and we support our pupils to exceed their expectations and achieve their personal best and celebrate not only the top grades but those who grades are higher than expected.   We're looking forward to welcoming most of them back into the LVS Ascot Sixth Form where we hope they will be able to study their A' Levels and vocational courses without further impact from COVID."
For more information about LVS Ascot, please visit https://www.lvs.ascot.sch.uk/